Jazz guitarist John Carlini is a music renaissance man! He performs jazz guitar pieces as well as all other various styles of music with a comprehension and passion which is evident everytime he performs on his guitar. His influences range from guitarists such as Andres Segovia, Django Reinhardt, and Lenny Breau to piano player Bill Evans and saxophone player John Coltrane. Carlini has the uncanny capability to incorporate all these artists' styles and make them his own! John definitely has music in his blood. His father was a violinist in the New York Philharmonic Orchestra and his mother was a virtuoso classical pianist. John journeyed on to collabrate in music ventures with contemporary acoustic musicians like David Grisman and Tony Rice and to publish his own collection books of jazz guitar tabs and jazz guitar tablatures.
John Carlini was acknowleged by Frets Magazine as a founding member of the revolutionary West Coast new acoustic music movement of the 1970s. He was the lead guitarist in the ground breaking new acoustic music group, The Great American Music Band. Ten years earlier immediately after discovering the Wheeling, West Virginia, Jamboree on the radio, John made the New York City folk music scene though he was still in his teens. Sitting in for Jim Rooney with Bill Keith's group, he met David Grisman. In the next two decades that fortuitous union would alter the world's viewpoint of what acoustic string music could be. A graduate of both Boston's Berklee School of Music as an arranging and composition major and the US Navy School of Music, where he played big band rhythm guitar in The Navy Show Band,
Carlini became the musical director of the recently formed David Grisman Quintet. The group's distinctive sound emanated in part from his unique, jazz influenced compositions.
Carlini's compositions are featured on David Grisman's "Dawg Jazz" (1982) and his orchestrations include work with The Turtle Island String Quartet and The Kronos Quartet. John also orchestrated David Grisman's score for the Federico DeLaurentis movie "King of The Gypsies". John Carlini is the guitar player on Grisman's Gammy nominated "Dawg '90″ and he played on stage with Grisman and Stephane Grepelli at Carnegie Hall. In 1992 Carlini was a New York "Drama Desk Award" nominee for his orchestrations in the hit off Broadway music "Song of Singapore" which was additionally recorded on CD.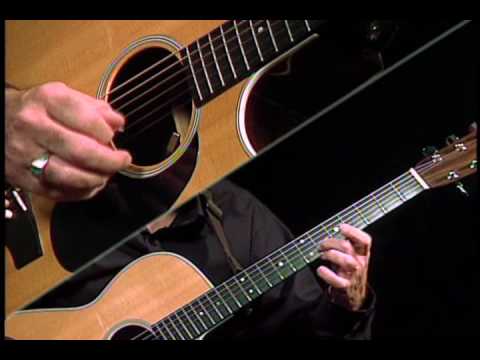 John has lately been developing his new acoustic guitar tunes with two bands – The John Carlini Jazz Ensemble that showcases jazz focused facets of his pieces and Over the Edge that is defining a harmonically superior bluegrass based music. Carlini's masterful jazz guitar talent is broadly acknowledged. Guitar Player Magazine terms him "a wily mainstream jazz guitar veteran with an unerring sense for all idioms". Fortunately for aspiring guitarists, John Carlini has published a number of jazz guitar tab books and instructional DVD courses which explain his single note improvised solos and chord melody solos as well as the pickstyle and fingerstyle guitar techniques he utilizes to perform them.
Peabody Conservatory trained guitarist Steven Herron helps guitar players become better guitarists. His company ChordMelody.com features an enormous selection of jazz guitar tablatures as well as instructional DVDs by John Carlini himself. Find out more and claim Steven's popular free monthly guitar lesson e-course available at: => John Carlini guitar tabs
Keywords:
Author: auburnwalker
This author has published 9 articles so far. More info about the author is coming soon.